Staff Spotlight! 😎🌟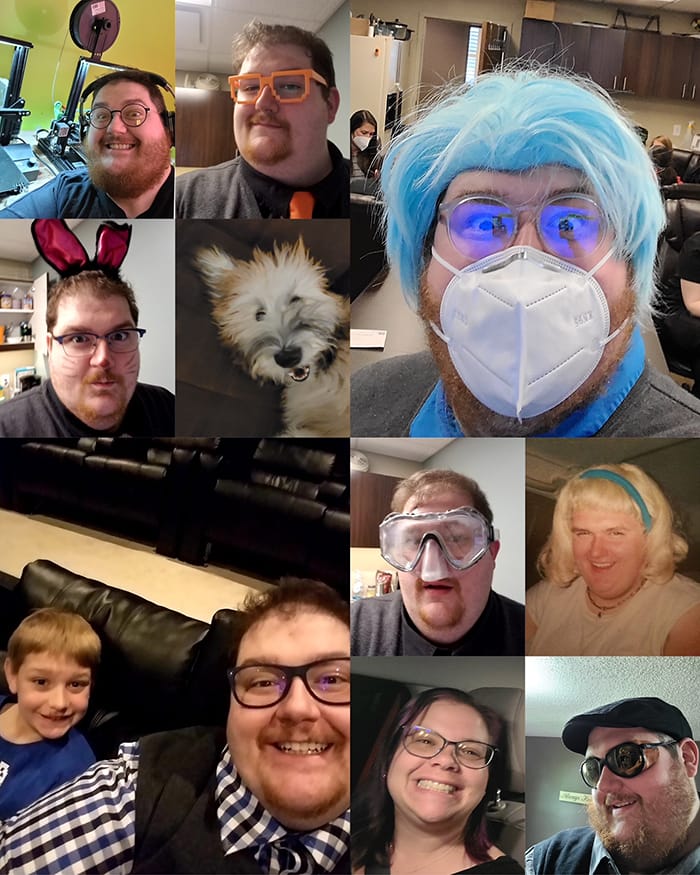 Josh has worked at TGVS for almost 9 years – outside of our doctors, he is our longest employee!
He spent many years as an Optician and Optical Lab Manager, but 2 years ago he began his role as Office Manager.
When asked what his favorite part about working at TGVS is, he said "In my time here, I have worked with some of the greatest people – both patients and staff alike. I have watched couples go from dating, to married, and now to having children. There are many more things to list, but I'll save that for coffee!"
Josh is quite creative and you may see some of his creations throughout the office – including many handcrafted Lego sculptures and 3D printed pieces. He says "I am an avid maker. I like to use different materials and love learning new skills. My side hustle is 3D printing different odds and ends while also making movie props like Thor's Hammer – Mjölnir." Josh aspires to be a patent holder in his lifetime.
Josh has a "BEAUTIFUL wife, Holly who I adore" and says that she has "the best laugh hands down." Together, they have a 13 year old son, Patrick. He says "between Holly's logic and my witty responses, we sure have our work cut out for us with him." They also have an 11 month old soft-coated Wheaten named Penny!
His nugget of wisdom for today is: "We always see our nose, but when we are not thinking about it, our brain deletes it and fills it in!"
Thank you Josh for so many years of hard work, exceptional patient care and service to our community. The staff can always count on you – and we also know if we need some comedic relief or a good dad-joke, you're the one to come to! Our office is truly lucky to have you as our leader and PPO (People Patrol Officer😉).